Natural Hot Springs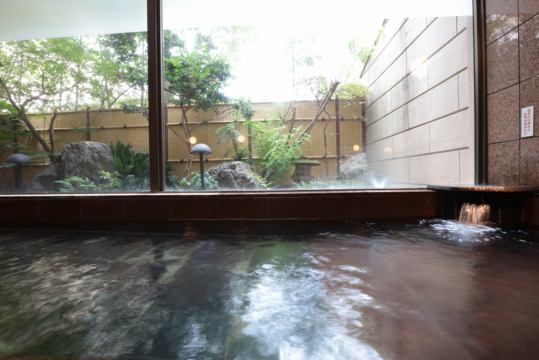 Natural hot spring that springs to the city area in front of the station of the prefectural office
Natural hot spring "Tottori Onsen" springs out in the city area in front of the station of the prefectural office location which is rare in the whole country.
It is located at the entrance of the tourist attraction 'Tottori sand dunes' and is familiar as a hospitality service of Tottori.
The hot water of the hotel's public bath "Oshidori-no-yu" has one self-source of 56 degrees in the premises,
Because the temperature of the hot spring is high, water is added to make it suitable temperature, and filtration circulation is carried out.
The source is a sodium sulphate / chloride spring, which smoothes the skin and softens gentle hot water, soothing from the core of the body.
It has efficacy in rheumatism and cardiovascular diseases, relieving the tension of the day and warming the body and mind.
Hotspring Information
Hot Springs

Tottori Onsen

Hot Spring Qualities

Sodium-sulfate·Chloride fountain(Containing salt - spa)

Efficacy

Chronic gastrointestinal disease·Chronic skin disease·Chronic lady disease
Arteriosclerosis·Neuralgia·muscle pain·Arthralgia·Frozen
Motor paralysis · joint stiffness · clenching · whirping · neck
Burn·Hemorrhoid·Chilliness·Recovery period after illness·Recovery from fatigue
Health Promotion·Frail child

Number of baths

"Outdoor bath] Man: 0 Female: 0 Mixed Bath: 0
[Inner bath] Man: 1 Female: 1 Mixed Bath: 0
[sauna] Man: 1 Female: 1 Mixed Bath: 0

Other bath facilities

sauna

Bath Terms of Use

Guests can use the natural hot spring public bath and sauna free of charge.

Onsen tax

150 yen/adult ※I will charge it separately.